About Us
Peter Corder - Physiotherapist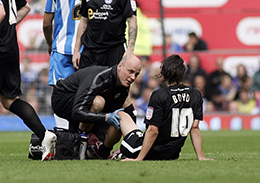 Peter Corder has 21 years experience as a Chartered Physiotherapist and Sports Therapist dealing with musculoskeletal and sporting injuries. He has 8 years experience working with the youth, reserve and 1st teams at Peterborough United Football Club providing treatment and management of player injuries. He has also worked with Cambridge City Football Club as their 1st team Sports Therapist, at the London Marathon and provided sports massage to the Zimbabwe World Cup Cricket squad in 1999.
During his time in the NHS, he gained experience at Peterborough District Hospitals Musculoskeletal Outpatient Department and lower limb rehabilitation gym and both elective and trauma orthopaedic wards. More recently he has worked as a Senior Physiotherapist at the private Fitzwilliam Hospital in their Musculoskeletal Outpatients Department providing treatment for patients requiring general musculoskeletal physiotherapy, with sporting injuries and those post elective orthopaedic surgery.
Peter has also played professional football for Tottenham Hotspur, Peterborough United and Colchester United. This gives him a clear understanding of the frustrations experienced by an athlete when recovering from injury.
His experience both as a professional athlete and as a Physiotherapist in football has given Peter a clear and thorough understanding of the importance of early intervention, correct treatment and management of injury whether through sporting activity or generally.


Opening Times
Monday - Friday
8am to 5.30pm

Conditions Treated:
Our services:
How to Find Us
Vivacity Premier Fitness, Hadfield Road, Off London Road, Hampton, Peterborough, PE7 8BT
View Larger Map