Our Services
Physiotherapy and sports injury clinic provide a comprehensive service provided by specialist physiotherapist for individuals that participate in elite professional sporting activities. It isn't exclusively directed at those elite but the recreational athlete and the general public wanting an insight into their general health, or planning of a fitness cycle which will accompany them for the forthcoming fitness cycle they are about to embark on.
Physiotherapy and Sports Injury
Physiotherapy and Sports Injury
General Physiotherapy
Physiotherapy is a scientific and evidence based practice profession that adapts a holistic whole body approach to the patient's general lifestyle, health and wellbeing. A physiotherapist's role is to help individuals that are affected by a disability, illness or an injury. They work to increase functional movement, exercise and rehabilitate whilst inserting educational advice along the way. At the centre of the physiotherapist's treatment is the patient's involvement of their own individual care which is designed to empower their patients with an awareness of their conditions whilst educating them on self-management of their condition so that their patients may take control and a fulfilled life can be led. Our specialists have numerous amounts of experience with assessing a wide range of conditions and evaluating their pathologies in order for their clients to receive the upmost level of treatment possible. In addition to their role the specialist physiotherapists will work in unison with their clients so that they are able to achieve their goals and are met within a suitable timeframe.
Electrotherapy
Electrotherapy refers to a type of medical treatment that uses electrical impulses or waves to aid in the recovery process of tissues and to reduce pain. The main electrotherapy modalities that are used in conjunction with tissue healing and pain modulation are:-
Ultrasound
Interferential therapy
Transcutaneous electrical nerves stimulation (TENS)
Laser therapy
Pulsed shortwave therapy
Our physiotherapists have gained vital experience over the years with in depth knowledge of which type of electrotherapy modality would be best suitable for a presenting condition. The different types of electrotherapy treatments are aimed at specific times within tissue healing and promoting the healing of cells that can decrease pain. The TENS therapy is used to stimulate the nerve endings which transmits pain and is aimed at manipulating them so a sense of pain relief is felt.
Acupuncture
Acupuncture is an ancient form of treatment that dates back over 1000 years and is based on the concept of manifesting a holistic balance of the body through the use of inserting fine needles in specific parts of the body to relieve pain and promote healing. Acupuncture performed by a physiotherapist is integrated into their treatment plans based on scientific evidence rather than the alternative eastern traditions. Evidence based acupuncture is used to reduce pain by stimulating the spinal cord and brain by inserting the needles into selected areas. This produces the body's own natural pain relieving chemicals such as endorphins and serotonin which also promotes a sense of wellbeing. Acupuncture can also be used in accordance with other manual techniques to decrease pain and aid in the healing process.
Massage Therapy
Massage is another ancient form of treatment which dates back thousands of years and is used for a variety of reasons such as relaxation, pain relief, injuries and illnesses. Massage therapy within the healthcare profession of physiotherapy is based on evidence based practice and the manipulation of the body's deeper and superficial layers of connective tissue and muscles through the use of various techniques and forms of massage. The use of massage therapy is to increase function of the tissues and to aid in the healing process whilst promoting a sense of relaxation and wellbeing in the process and can be used for a wide variety of conditions and dysfunctions. There are many different types of massage that are used for different purposes as they consist of different techniques that target the different structures of the body. This can be for pain relief, rehabilitation, injury prevention, promotion of good health and aiding in the recovery process.
Spinal Manipulations
Spinal manipulations are a manual therapy performed by our specialists and are used as part of treatments. They can also be used as an alternative to or in conjunction with surgery and medication. Spinal manipulations are often used to treat neck and back pain but have other benefits such as treating musculoskeletal dysfunctions. It works by restoring natural and normal balance by using manual techniques such as mobilisation and manipulations of the spinal cord. Spinal manipulations are used to restore movements that may have become restricted as a result of a variety of issues. Our specialists are have undergone the relevant training and have vast experience is performing these techniques in a safe and effective way.
Sports Rehabilitation
We offer a comprehensive sports rehabilitation service to those that participate in any level of sporting activity. Sports rehabilitation doesn't just involve standard physiotherapy but rather a specialised area in which sporting assessments are combined with extensive knowledge of a the sporting field. Our physiotherapists are specialised in the sporting environment and understand what is needed to perform at the top of the game. Sporting rehabilitation now only rehabilitates individuals to the point of entry back into competition but it also offers the chance to use the specialist's skills to prevent further injury and help reach the maximum potential.
Anybody can benefit from the use of a sports rehabilitation service as the preventative techniques used can be incorporated into everyday life whether it be in a gym or a working environment.
Post-operative rehabilitation
An operation is warranted as the last point of call when all other modalities of treatment would not suffice in the rehabilitation of certain issues but can have an instant impact on the quality of one's life as a result. Operations can be for a number of reasons, but the reasons are usually similar.
Most surgeons will not operate unless the appropriate steps and measure are taken post operation. This is a crucial part of the operative process as without the correct or sufficient rehabilitation methods then all operations will be deemed a failure. Our physiotherapists are specialised in giving post-operative care and rehabilitation so that their clients can maintain a level of general fitness during the recovery stage and that the time of the recovery is as quick as possible so that activities can be undertaken as soon as it's deemed possible.
To book an assessment with us please call 01733 890685 or e-mail info@physiosportsinjury-hampton.co.uk for further information.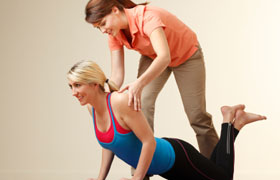 Opening Times
Monday - Friday
8am to 5.30pm

Conditions Treated:
How to Find Us
Vivacity Premier Fitness, Hadfield Road, Off London Road, Hampton, Peterborough, PE7 8BT
View Larger Map